DELIVERING PREMIUM EXPERIENCES
From team building sessions to trade shows, award ceremonies, and seminars, McDonald Jones Stadium is the perfect function venue for corporate events in Newcastle.
Our conference rooms utilise the abundance of natural light at McDonald Jones Stadium and each room has an outstanding view of the iconic football field. Our Newcastle conference venues are also customisable to meet your needs - the furniture, screens, and sound equipment can be rearranged to meet the requirements of the event, and we have lots of AV equipment for hire.
Data projectors, screens, plasma televisions, whiteboards, microphones, PA systems, and more - no request is too big or too small. We're committed to ensuring your conference or meeting goes off without a hitch.
Located on level two of our grandstand, our Newcastle conference venues have direct lift access, so the event is accessible for all guests, whether they're team members, business partners, or contacts.
Parking is also provided free of charge to all guests and we have large, spacious disabled parking spots close to the entrance.
Book one of our stunning conference rooms in Newcastle for your next corporate event. We offer half-day and full-day packages including a light lunch or tea break. Get in touch to book your event now!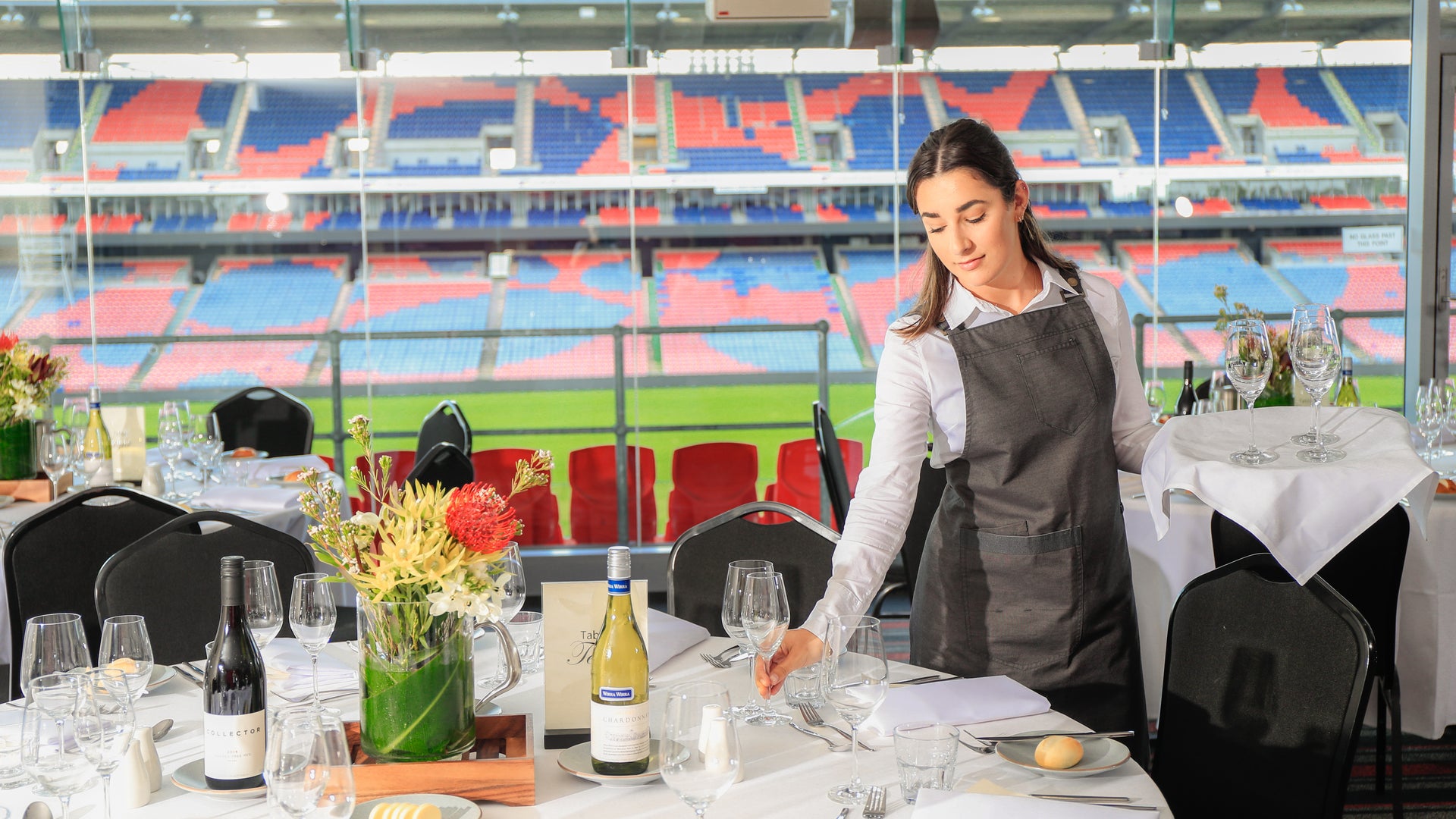 The Broadmeadow Room
The Broadmeadow Room is easily one of our most popular and sought-after conference venues. Located on the halfway line, the Broadmeadow room is an open-plan space with lots of natural light, a separate foyer for business calls, and a central bar for those TGIF drinks at the end of the week.
The unique benefit of the Broadmeadow room is its three adjustable walls, making one Newcastle conference venue several. This room can be configured into several smaller spaces, each with natural light and easy access for all team members. Each miniature Broadmeadow room is capable of accommodating up to 100 guests, making it simple to split the room into different departments and provide bespoke training based on your team's experience.
For the most flexible venue hire Newcastle has to offer, get in touch today. We have premier venues to suit any occasion.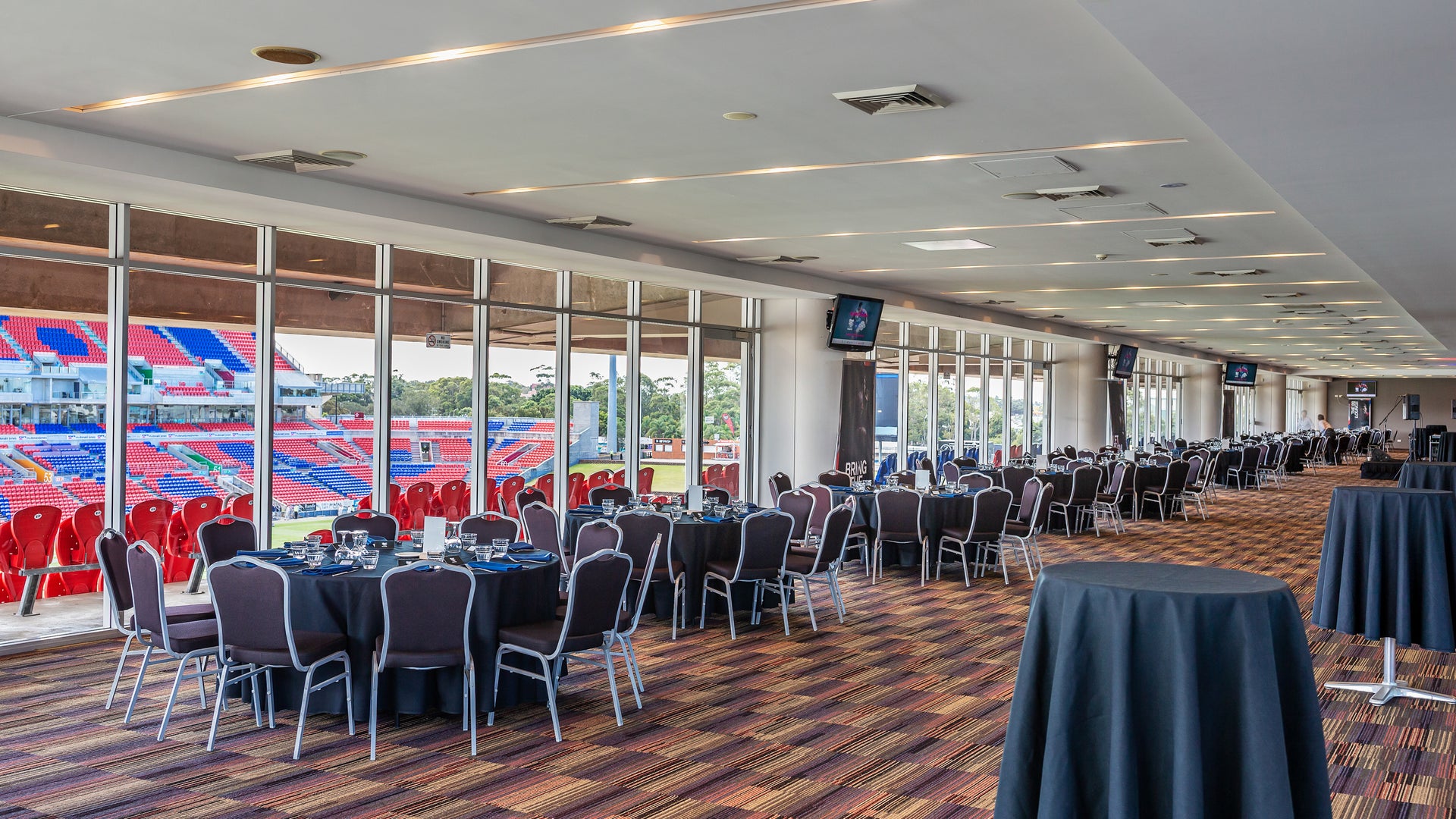 The Mereweather Room
Hosting an exclusive business awards ceremony? Hire one of our larger conference rooms in Newcastle, capable of hosting up to 350 guests. Our Merewether Room is perfect for award ceremonies and corporate events.
Our largest function space, the Merewether Room is located at the southern end of the Andrew Johns Grandstand and joins onto the Members Bar where guests can order pre-dinner drinks and canapes (on request - additional fees may apply).
With floor-to-ceiling windows and a breathtaking view of the football field, the grandstand, and the Western Precinct, your event will have an extra exclusive atmosphere. Our team will serve bubbles to guests on arrival - we'll provide luxurious service from the start of the event to the very finish. The Merewether Room has a flexible open plan design, so your team will even have space to wander around the room and network with other team members or stakeholders.
It's the perfect location to create connections and a real sense of community within your team. The Merewether Room has a built-in PA system and flexible AV options, too, so you can host an immersive awards ceremony for your guests.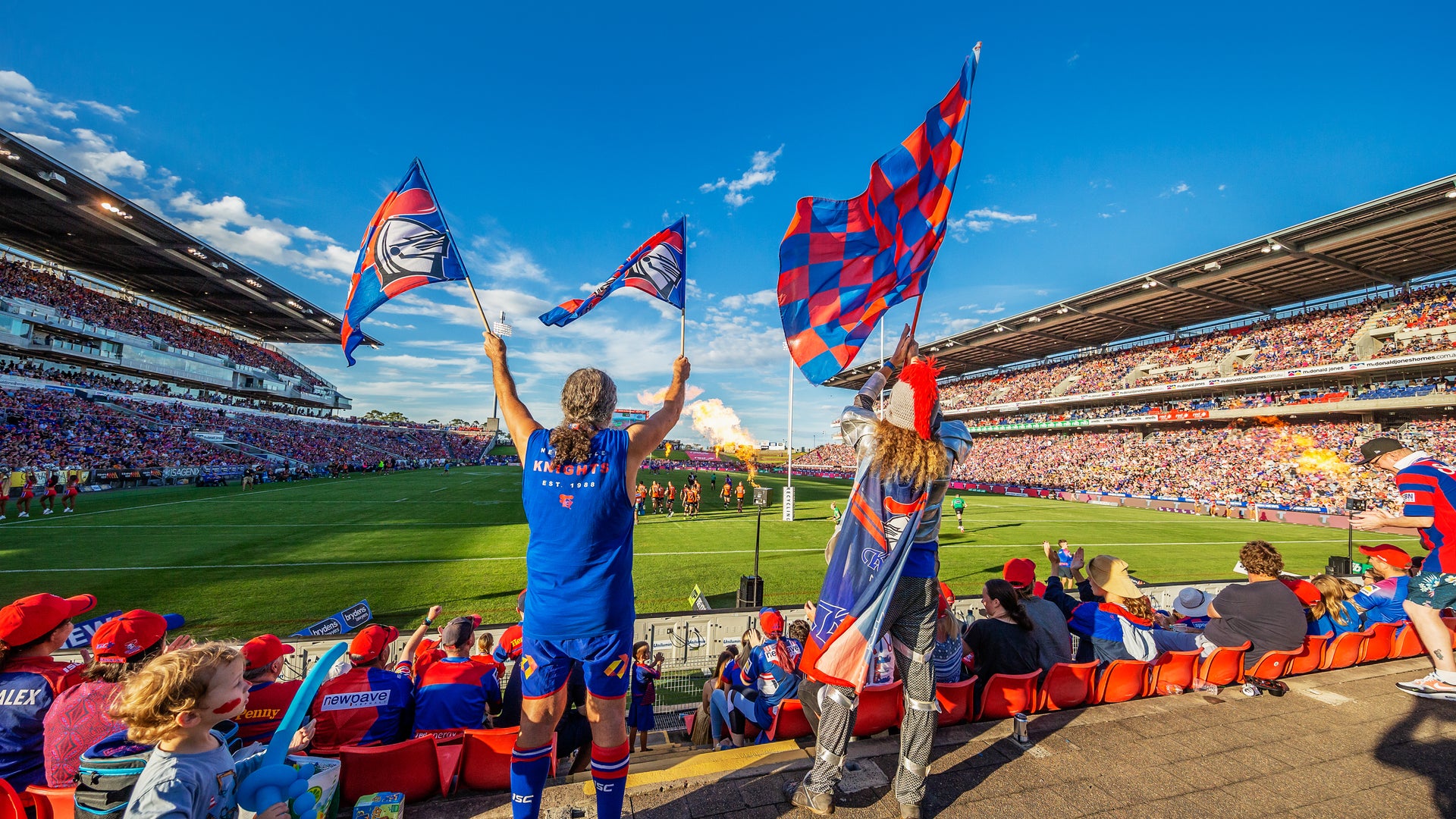 Jesmond and Lambton Rooms
Looking for a small space where you and your stakeholders can meet? Our Jesmond and Lambton Rooms are an excellent choice of venue. Far from the distractions of the outside world, the Jesmond and Lambton Rooms can seat up to 30 guests (or 50 in a cocktail setting) - perfect for team workshops, training sessions, and corporate meetings.
With floor-to-ceiling views of the playing field and the eastern grandstand, these rooms offer ample natural light and a relaxed atmosphere. Complete with a kitchenette where your guests can make tea and coffee throughout the day, it's the ideal environment for productivity.
You can even set up a snack station where your guests can help themselves to sandwiches, biscuits, and other light snacks. Our catering team will wait on your hand and foot so the event itself goes off without a hitch or interruption.
You will also have access to our seamless WIFI and have space for a projector or speaker if required. These items are available to hire from McDonald Jones Stadium - just let us know what equipment is needed and we'll make adjustments to the room to ensure you have enough space.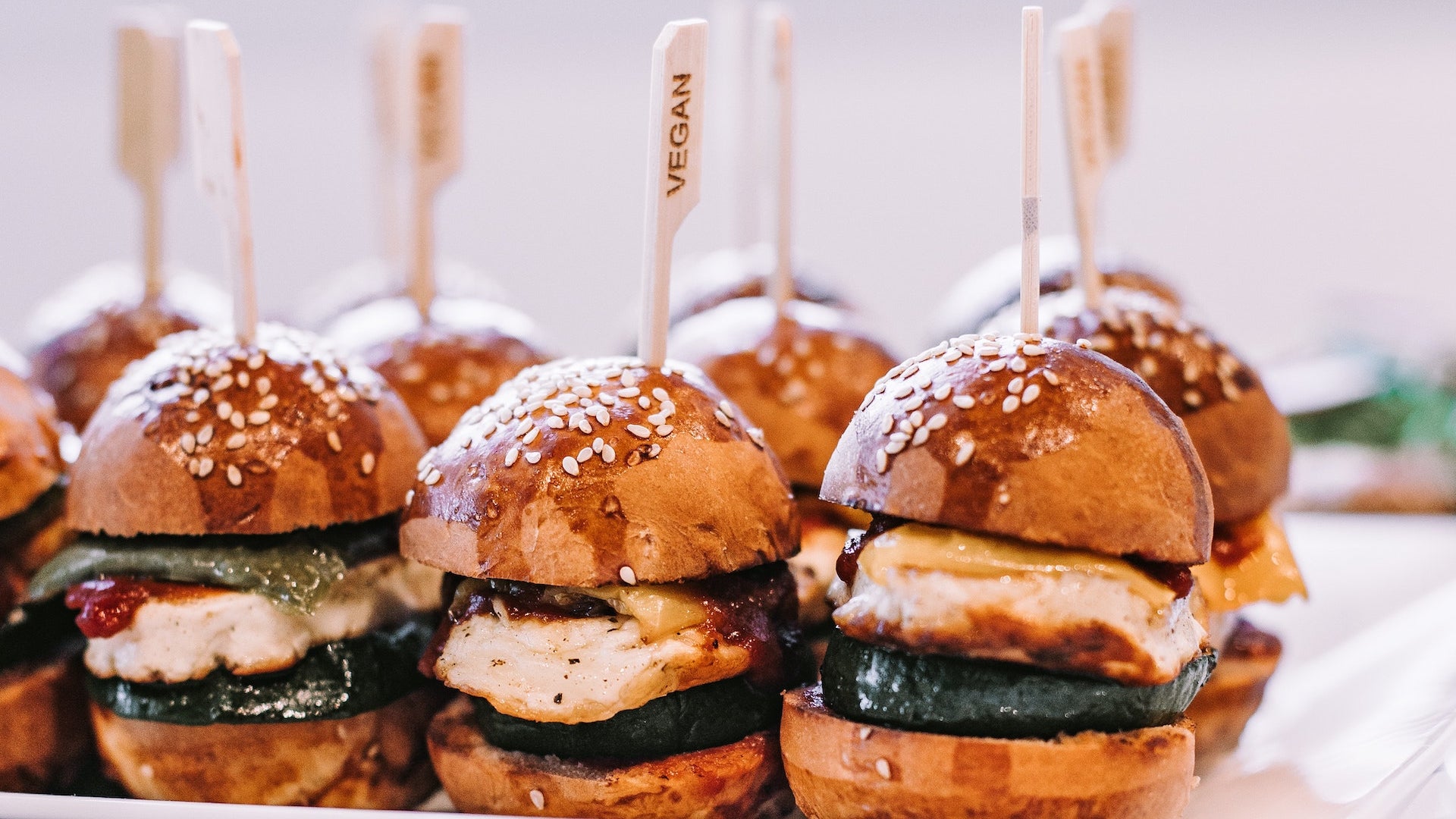 Conference Centre Catering
At McDonald Jones Stadium's Newcastle Conference Centre, you can combat the midday yawns and your guests' waning attention span with our high-quality catering options. Our professional catering team will serve tea, coffee, and cold drinks to keep everyone hydrated, plus provide a light lunch to keep energy levels high.
Our catering packages include vegan, vegetarian, and gluten-free options to suit all diets, plus we can customise our catering to accommodate specific food allergies. Be sure to let us know about any special dietary requirements ahead of the event and we'll organise something truly delectable for your guests.
We are committed to keeping it local and supporting local growers, so all of our ingredients are sourced from Newcastle and Hunter businesses. Your guests will love the freshness and flavours of Newcastle's fresh fruit, vegetables, and fresh produce.
Get in touch for more information about our flexible catering packages. We have meal plans and recipes to suit everyone's taste buds.
Conference Rooms
If you're looking for somewhere a little different for your next corporate event, McDonald Jones Stadium is the place to be. From breathtaking views of the football field to high-quality catering and quiet conference rooms, your event is bound to make an impression on your team and your stakeholders alike.
Our catering and events team will ensure you have everything you need for a productive event, whether you're hosting a business meeting or a casual awards ceremony for the very best and brightest in your team. No one will go uncatered for - every single guest will feel right at home at McDonald Jones Stadium.
Our team will even provide innovative catering ideas and help organise the event, following every single detail and requirement you give us. We'll deliver a stylish, modern function space where you can get some work done, or simply socialise with your team in a luxurious setting.
Our Newcastle conference venues are booking fast. For more information about our corporate venue hire in Newcastle, please contact us via the contact form or email us at functions@mcdonaldjonesstadium.com to discuss your requirements.
We'd be more than happy to organise an inspection based on your busy schedule.